I like instant gratification.
It's not the best trait to possess, but, that's just the way I am.
That's why writing speaks to me. I can jot something down, type something in, think with my fingers and suddenly I have something. Something I can see and touch and enjoy, or not. But something that is tangible and complete and there.
It can be factual, it can come from my imagination, it can be plain trash. But it can also be meaningful, heartfelt and alive. That's my favorite kind of writing.
I can't sing. I've forgotten how to play the violin. I'm pretty mediocre at just about everything I do. I'm pretty good at falling into obscure categories and having rare things happen to me. But, as far as talents, go, I don't have a lot to put on the table.
I'm thinking it might be that instant gratification thing.
But, I can spit words out and make them into a source of enjoyment. I wouldn't exactly call it a talent, but I would call it the reason I write. Because I can. And because it makes me happy. Most of the time.
One of these days I'm going to push myself and write something that takes me longer than 5 minutes to publish. And maybe, just maybe it'll be my Master's Thesis. Perhaps a novel. One day I'm going to lock myself in a room and write to my hearts content and see what I'm capable of when I don't have 5 children under foot.
For now though, I'm content with the time I have and wouldn't trade those smiles and whines and requests for more for the world.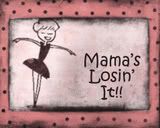 Don't forget to head over to Ms. Kat's place for more writing prompt submissions.
P.S. Did anyone else notice that yesterday's Wordful Wednesday had over 100 participants? WOW! Thank you all for playing along.