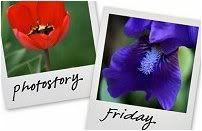 Hosted by
Cecily
and
MamaGeek
We're saying goodbye to summer and kicking off Autumn with a new color scheme for our exterior.
I can't wait to see the finished product. I know it's going to look fabulous. It looks fabulous already. Until then it's completely done though, this is one ornery mama.
Have I ever told you about my love/hate relationship with home renovations? It's simple.
The love part comes in when the project is completed. The hate part is every second until it's done.