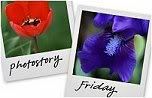 Hosted by Cecily and MamaGeek

A few months ago I had the chance to meet a long-time friend and her twins. She and I "met" in a forum for parents of monoamniotic twins. Momo twins are really rare, so having a connection with someone that had experienced what I had was really special……vital, really.
We decide a few years ago that our twins would be PERFECT for each other. You know, long term. As in marriage.
I was so excited for my boys to meet their future brides.
Although I didn't see any signs of budding romances, they did play together. When we bribed them.
And I got to finally meet Jenny in real life, which was such a treat. It's a good thing I adore her. Since she'll be my sons mother-in-law and all.
You can read about monoamniotic twins
here.