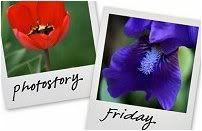 Hosted by Cecily and

MamaGeek
This is John. My last born baby and beloved stinker. In the womb, he was definitely the trouble maker. He liked to move around his living space and was NEVER in the same place from one ultrasound to the next. I'm pretty sure Jacob hung out where John kicked him and was thankful for the times when John slept. He's also my baby that had cord compression issues and his umbilical cord around his neck twice when he was born.
As a newborn he was feisty. His lungs were more mature than his brothers, and he seemed all around healthier. I was sure that I had pegged his personality inutero as busy. And then he turned into this really great laid back baby. And I was sure I had mislabeled him. Although he got into lots of trouble, he wasn't appreciably busier or feistier than his mirror image. But then he turned 2 and figured out how to push every button that I have. I LOVE this kid to pieces, but some days he drives me to the brink of distraction. Then right before I lose it, he shoots me this killer smile and I can't help but be grateful for my little firecracker. My lovable, squeezable, always in motion, fiercely independent, never quiet, baby.