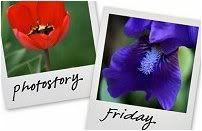 Hosted by Cecily and MamaGeek
I remember having my first ultrasound ever and finding out that we were having a girl. The technician couldn't believe how active she was…I could. She was always moving. Grace was named almost from the hour we knew her gender.
I had such a typical pregnancy and was blissfully happy gaining about a zillion pounds. Even my delivery was easy. After she was born I wondered what all the fuss was about. Boy was I naive.
Grace came out right on time, was strong and healthy and the light of our lives. From the beginning she was sweet and happy and active and liked to be the boss. Nothing much has changed. She's such a good girl and I love that I never have to worry about her misbehaving when she is not at home. She is a pleaser, is really into fashion, excels in school and isn't afraid to try new things. At 8 she also thinks she's a teen. She and I often butt heads, yet I couldn't love her more.