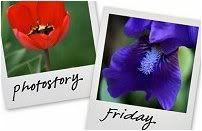 Hosted by Cecily and

MamaGeek
What more can I say about Garrett than he is just about the easiest going kid around? Well, actually, quite a lot. He prepared me for the twins. I think if I hadn't stressed and worried about him, I would have been a basket case with his brothers.
He had a 2 vessel cord in utero; he was missing one of the arteries in his umbilical cord. He was closely watched for growth and abnormalities and I had the opportunity to see him regularly on ultrasound before he was born. Then, this perfect little boy was born (with the cord around his neck twice) and I thought all the worry was over. That is, until he spiked a fever of 102 as a 9 day old. To the hospital we went where he was poked (two spinal taps) and proded and then hooked up to an IV and admitted to the hospital. In the end, it was only a virus, but the threat of meningitis was very real. We survived that hospital stay and a few days later I received a phone call from his pediatrican. He was flagged for having Cystic Fibrosis and needed further testing. After the sweat test (definitive test for CF) we were relieved to find out he was only a carrier of the mutated gene. All of these problems ended well, but served an important purpose as they emotionally prepared me for a pregnancy and babies that aren't text perfect from the get go.
Garrett was an incredibly easy infant, baby, toddler and continues to be as a little boy. He is so patient and self sufficient that many times I have to look around to make sure he is even in the room. He has always been a daddies boy and that was a real blessing when I went inpatient and then when the twins came home. I didn't have a fight for 3 on my lap, and he just cruised along, going with the flow, making my life oh so much easier. He was never very affectionate with me though. He didn't need or want to be cuddled by me (he wanted daddy) and to be honest, if I hadn't been so busy it would have really hurt me. I think he just seemed to know though that everyone needed something and he was patiently waiting his turn. Only recently has he become really affectionate with me, and I couldn't be more thankful. I notice and treasure the times that he comes up to me for a hug or to sit on my lap. I'm blessed to have a child that is just so good. My heart aches with the love I feel for my middle child.