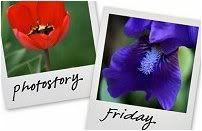 Hosted by Cecily and MamaGeek
I shamelessly admit it. My kids are clever. Very, very clever. If a situation presents itself that will allow a little circumventing of the rules, they are ON it. They start young, my situation manipulators. Here's an example:
"Mom says I'm too little to use a knife? Alrighty then. A saw it is".