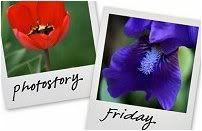 Hosted by Cecily and MamaGeek
Emma prepared me for Garrett who prepared me for the twins. Jeff almost missed Emma's birth. The doctor did. We thought we were in for a long night after my epidural but Emma had other plans. In the time it took Jeff to run to the cafeteria for a candy bar and coke I went from 4cm to done as disco. My nurse refused to deliver her, so I'll always be grateful for the other nurse that stepped in and took charge.
I was sick before she was born and I passed whatever it was on to her. Not nice. I know. Her heartrate was accelerated for many hours so after I was stabilized she was induced. I'm glad that I didn't know then what I know now. I would have freaked out. When she was born she had a fever and had to be taken to the nursery for a few days of antibiotics before coming home.
From day one Emma has been a good sleeper. An exceptional sleeper, actually. She's always been so pleasant and sweet to be around. She is always willing to help me when I need her, and for that I'm so thankful. I love Emma's personality. So unassuming and good natured, if a bit timid. My number two is spectacular. I'm so lucky. And she's going to be in First Grade. Where did the time go?